Tired of big box dealerships overcharging you for unexperienced service technicians servicing your motorcycle?
Then come visit Tootsie's Cycle
We are located in Bergen County, Garfield, NJ

We are the oldest and longest running motorcycle shop in the state of New Jersey. We have been in business for over 40 years. We specialize in all machined engine work for stock to performance motors. The models we work on are from the 1930's to present. We have our own machine shop and offer a variety of service. Our mechanics are the best in the business. Stop by for a cup of coffee and say hello to the staff!!
---
Location, Contact, and Hours
Hours
Monday: 10am - 6pm
Tuesday: Closed
Wednesday: 10am - 8pm
Thursday: 10am - 8pm
Friday: 10am - 8pm
Saturday: 10am - 12pm
Sunday: Closed
Address
196 Van Winkle Ave
Garfield, N.J. 07026

Phone
201-625-0102
E-Mail
tootsiescycle@optonline.net
---
About Us
Hello everyone, let me introduce myself. My name is Kevin. I am the owner here at Tootsie's Cycle. I am always available to help out with a consultation or any questions you may have. If I'm not behind the counter you can find me on one of the machines in the back room making some sort of bike part from raw aluminum or machining something. That's what I mostly do here.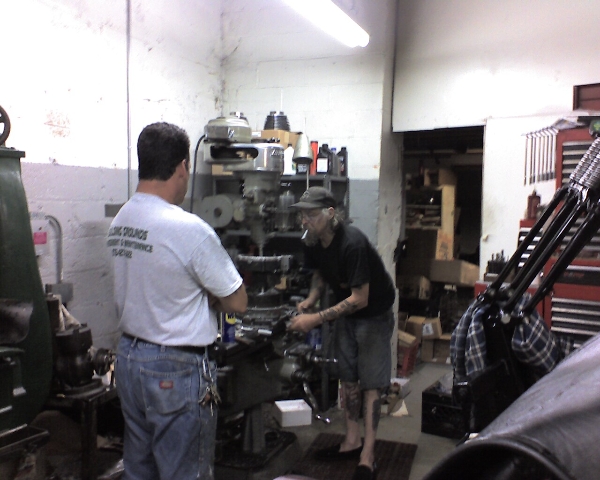 I purchased Tootsie's from the previous owner in 1980. I worked for him 2 years prior to that. Our location is 4,500 square feet. We currently have 5 bike lifts. One is specially made for trikes.

We are always updating with new technology for bigger cubic inches and more horsepower.

We can do total restorations. We can work on any motor from flathead to current. Something I'm proud to say. So if you happen to inherit your Uncle's old bike or have that basket case in the basement, we are the ones to help you out.

We have only one way to do things here and that's the right way, the first time. No cutting corners here at Tootsie's Cycle.
---
Services
We are a complete machine shop. All services are done on premises including welding. Nothing but powdercoating is sent out. Motors & Transmissions are built to order. From Stock to wherever your dreams can take you. Stock & Performance Cylinder Boring, Engine Balancing, Case Repair, Big Bores & Strokers. Twin cam cranks, rebuilt trued balanced & welded. Twin cam Timken bearing conversion. Compression releases machined & installed. All your machining needs can be done here.

Dealerships come to us when they need these services.

We deal direct with S&S, High Proformace, Andrews, Dynoteck, Axtell, Baisley High Proformance, V-Twin, Mustang, Midwest, Paugho, Performance Tire, Jims, Spectro Oil, Wizards Products, Belray, Baker, Axtell, Custom Chrome, Bikers Choice, True-Track, Diamond Heads, Arlen Ness, TEC distributing, Tucker Rocky, Wiseco, Tec Cycle Products.

We also deal with and distribute all other major manufactures.

Business accounts are welcome!
---
Frequently Asked Questions
and their answers
Please feel free to contact us if your question isn't answered here.

Q: Will you work on my warrantied late model motorcycle?
A: Yes. We can work on any warrantied motorcycle.

Q: Will service work performed outside of my manufacturers service department void my warranty?
A: No. Routine and scheduled maintenance work as well as repairable ie. tires, clutches, oil changes will not.

Q: Will you work on my bike if I bring in my own parts?
A: Yes, we will accomodate almost any special requests & situations.

Q: What is your labor rate?
A: We are competitively priced.

Q: Do you work on mopeds?
A: We don't work directly with mopeds & other motors but we can recommend a shop that can.

Q: Can you make my bike perform better (go faster)?
A: With over 28 years of motorcycle performance experience, we can absolutely guarantee positive results.

Q: Do you do estimates?
A: Yes, free estimates are available for all onsite work.

Q: Can you service my bike?
A: Routine and scheduled maintenance and service work are our specialty with regular discounted rates and specials.

Q: How long do I have to wait for service?
A: All services will be performed the same day as appointment was scheduled. In most cases ride- ins will leave the same day.

Q: Will you change a tire?
A: Yes. We are able to handle and balance most custom wheels. We also check the bearings and seals.

Q: Will you work on other American Made Bikes along with Harleys?
A: We specialize in all American V-Twin Motorcycles.

Q: Can I ship my parts to you to be worked on?
A: Yes, we can accomadate almost all shipping needs and request.

Q: Do you take checks & credit cards?
A: Yes, we accept all Major credit cards & debit cards. Personal checks are accepted with a valid drivers license.


---